Its time to get your continuous improvement processes fit for the future – 2020 Process Vision
Improvement Methodologies
Continuous improvement (* or substitute any of these Process Improvement, Lean, Lean Startup, Kata, Kanban, Kaizen, Design Thinking, Six Sigma, Lean Six Sigma, Agile, Quality Improvement, Business Improvement, 2020 Process Vision etc) methodologies have been around for many years. The principles are tried and tested and proven with many academic studies that is not to say that 'applying' one of these standards will deliver successful delivery projects anymore than being a 'Prince2' organisation doing traditional waterfall projects did.
Applications of any combination the above exist in most organisations at varying capabilities and maturity levels. Often the skills are quite narrowly focused in project and programme teams (or even external consultants) and in more mature organisations the improvement culture exists across the entire organisation (think Team Sky marginal gains culture or the Aviation Industries entire sector focus on continuously analysing failure or just near misses to drive improvements in safety). I genuinely know of no organisations at maximum level as anyone truly following the thinking they will be seeking to continuously improve.
Some organisations or sometimes methodologies place a focus on adhering rigidly to a specific approach but my personal feeling and that I can find from improvement experts is that you need to adopt an approach drawn from the best of these that meets your organisations or programme needs and get started. Lean teaches us to learn by doing and develop their people based on their experiences of application of the thinking. Don't write about a strategy write your first iteration of your approach, test it and iterate. It is ironic in many organisations that the approach to process improvement has not changed for many years and those teams can be the hardest to change the way they deliver their processes.
Continuous Improvement Maturity Models
I remember many years ago measuring our new programme against the MSP maturity model. I haven't found a specific Continuous Improvement Maturity Model with any standards (I am sure there are some out there) but to be honest that would be too narrow a focus as CI is a part of a successful organisation delivery programme (notice no digital in there). I have been looking recently at the CMMI V2.0 Maturity Models as a good standard already utilised by many organisations because recent user research at events in 2018 has indicated this would be of value to organisations, recently North Lincolnshire Council released a piece of work on Digital Maturity on the Digital Marketplace . We did not bid on the item in question as I believe the benchmarking aspect is difficult as a supplier to commit to as it would depend on comparator organisations being willing to commit some very busy people to a not insignificant of work to do it well not just a quick hour call.
As with all methodologies and our approach to any project I am a pragmatist not a purist in terms of application. CMMI is by no means a definitive and best way (I can see tailoring it for specific sectors could be useful) but it is a standard to measure yourself against. Huge amounts of process management and improvement elements exist in this methodology and benchmarking it against real users it does provide an accurate way of assessing an organisations maturity to deliver new and improved processes. CMMI like the NHS Ten Year Plan places a huge emphasis on the role of process management/quality improvement in delivering modern services for our citizens, patients and people.
I can see a huge benefit in organisations using CMMI or a another standard maturity model to assess their current capability and prioritise the next actions to improve the organisations capability and maturity. Undoubtedly what is truly missing in many organisations is the improvement culture to enable us to perform. We see all to many organisations where the skills are still primarily held in central improvement teams. Its 2019 its no longer good enough for the improvers to be that geek in the corner by improvers I mean the people working in multiple disciplines (data, project, programme, improvement, ICT, Service Experts, Process Owners, Process Actors etc) actively working on improving the way we deliver value for our customers.
Its 2019 its no longer good enough for the improvers to be that geek in the corner
It would be fantastic in 2019 to think that maybe MHCLG can think about how organisations can benchmark and improve and before its said absolutely this would look nothing like Better Connected it would focus on end to end process delivery.
Why 2019 The Year Of The Process?
I have been involved in Public Sector for coming up to 20 years this year. Who knew a random bowling night when working as a bar steward at Babbacombe Cricket Club would lead to spending the next 13 years with Torbay Council and nearly 20 working in and with the Public Sector. I have worked in technology based improvement right back to getting involved in a DIP and Workflow project for Housing Benefits. Most of this time has been spent on working in some for of improvement project or programme. For the last 6 years or so I have been a contractor to local government and had a brief sojourn at a software supplier. The last 2-3 years have been focussing on my own business helping organisations improve the way they improve their processes to deliver real outcomes.
Over those last few years I have been really lucky to work in and with over 30 organisations and had literally hundreds of practitioners in improvement from across the public and private sectors at the amazing events run by Nick Hill of the Public Sector Digital Transformation Network and others. I have to say from a business perspective that we would not be here but for the help from Nicks networks in being open and willing to trying new innovative solutions in the public sector. We have done a lot of learning as a company in these years and one of the learning points has been there are a lot of events out there but there are not a lot that deliver both value to a supplier and to attendees (although in the supplier camp I still feel like part of the public sector and its ethos). These can cost huge sums to attend as a supplier and sometimes as an attendee but not all deliver value. Thanks Nick for delivering the same quality regional events delivering value just like when I came across you back at the start of my journey.
We have spent the first few years (as I have later found out) been following Lean Startup good practice just getting customers to use the software and supporting and learning from them along the way. Although the software we sell is used by over 33% of municipalities (local authorities) in the Netherlands(don't get me wrong this is not a public sector tool this is used 50/50 by public/private sector it is a CI tool which applies to all) bringing it to the UK to start with and try to introduce it to central and local government was hard getting early adopters without UK reference sites. Luckily a few amazing Local Authorities (Portsmouth, Eastleigh, Perth and Kinross, Bracknell and Carmarthenshire to name a few) we able to see the clear benefits, test the free trial and take a chance and I am eternally grateful to all our amazing innovative customers.
I fully understand the scepticism towards suppliers and their products and I will talk about this more later. I have always been sceptical too based on experience of 19 years of public sector software 'innovations'. I have also spent large amounts of time when working in the sector as a contractor trying to manage suppliers and outputs better. I suffer now from being on the other side of this and really I hope this is something we can start to address in 2019. I have had a blog post waiting to be fully written for a few months now title 'Not all suppliers are b@stards'. I often speak about the established players and their history of delivery and I think my views are well known. There are now more than ever though a number of new SME and larger suppliers who are looking to deliver value add products fit for the modern age but they can't do it alone they need you to interact with their products.
I hope some of the work MHCLG are doing on the supplier side of the digital declaration will address some of the challenges this year and I am gutted to be not able to be part of that but I could not spare the time and expense of multiple London workshops. I am also performing a mini boycott of Tech UK at the moment following their statements purporting to represent the entire UK Tech sectors views that we should take Teresa Mays Brexit deal. Without getting political that statement angered me(and judging by the twitter reaction many others in the UK Tech sector) as I am in the sector, not a member therefore they don't represent me and also I was fairly confident they had not asked their members.
Continuous Improvement Culture Is A Critical Success Factor Of Any Programme
Our software supports the entire end to end continuous improvement processes. As a company we support organisations to deliver continuous improvement programmes in their organisations. The software is a massive help to starting to improve the way you deliver new and amended products and services but it is not a silver bullet. As with many other things in the digital(I don't like this word) transformation arena its not about technology it is absolutely primarily about people and culture. We have focussed on getting users of the software which has meant early on that we were looking at deploying into project and programme teams centrally. As organisations grow with the new ways of delivering continuous improvement the usage has grown and expanded into other areas but as we know progress can be slow in the resource strapped Public Sector.
The continuous improvement process utilising techniques like lean (my favourite core thinking) really does underpin the entire organisations improvement and delivery path. Effective mapping and understanding of your current (As Is) processes for me is the basecamp for any improvement work to be undertaken. This process in many organisations can take many weeks or months even just to capture a process. That's a lot of waiting time and multiple workshops/write ups to get to an 'understanding' of the process. Many organisations are not necessarily doing this in an optimal way and either mapping just a silo (like customer service, back office) a channel (like just the digital path) or if they are mapping the entire value chain they are holding separate meetings with the various groups of process actors.
With 19 years of experience of doing this and a brain that seems strangely wired to process thinking I think I feel able to recommend what I believe is the best way to do process discovery to get the optimal results. I have 'process eyes' the paths, the failure points and the weaknesses just jump out this is probably due to the work I have done in this area for many years. You may think that this knowledge about the process would already exist and be documented but it is not in my experience. OK so my tips for getting this right (I would always advocate this is done prior to any other work as this will give you the baseline understanding of the problems that exist). Please note this is not dependant on using our software just good practice to get results :
Get all the process actors (people who do and understand every element of the value stream within their areas) from across departments in the same room. You learn a huge amount during this discovery process and often different teams do not understand what people are doing upstream or downstream from their work). Lean teaches us that where a process passes between different areas, it is very likely to be a source of waste with under (too little information/effort) or over (too much information/effort).
Run the discovery in as short a cycle as possible with as few meetings but getting them documented and shared. Long cycles and multiple meetings in running process discovery and redesign lead to many challenges such as things changing or even people.
Document the workshops and processes in granular detail and please get the metrics. You need to be getting a lot of detail about processes such as frequencies, times, costs, drivers, legislation etc to fully inform later stages of delivery.
Share and get further stakeholder engagement over your As Is process. We need to make sure our understanding of the As Is is correct (don't worry there will be processes where there are multiple ways to do the same just capture the variations and where they exist). You will not have all the stakeholders in the room make sure you ratify your understanding by allowing others to contribute and challenge.
Don't forget the Gemba. Sometimes this is not perceived necessary or lost due to time. Best practice would say to go to the Gemba (the place/s where the work is done). Go see, show respect and ask why (Toyota ethos) to sense check your understanding or investigate challenges.
Keep the same team in the process workshops. Your As Is and To Be workshops go into a fine level of detail changing attendees means rework of previous work and conversations.
Get your As Is process outputs signed off by the process owner/s before commissioning any work. A lack of clarity or buy in to the baseline will lead to significant challenges later in the process around benefits, costs or new service designs
Analyse the current cost and time involved to deliver your process.
Doing all this looks like a lot but actually when you analyse the process and the impacts getting this right at the start puts the improvement projects on very firm foundations. The reality is that capturing and understanding the As Is can normally be done in a day and maximum 2 days of effort. Compare that to what you do currently do you spend more or less time? You should now understand the costs of currently delivering your process (have a look at the GDS Performance Platform this (cost of service) is a key indicator used to demonstrate outcomes), you will also understand the bottlenecks and challenges, the value and the non value and have gathered many improvement ideas. This information is pivotal to now to inform the service design process or to be used to decide if work should be commissioned.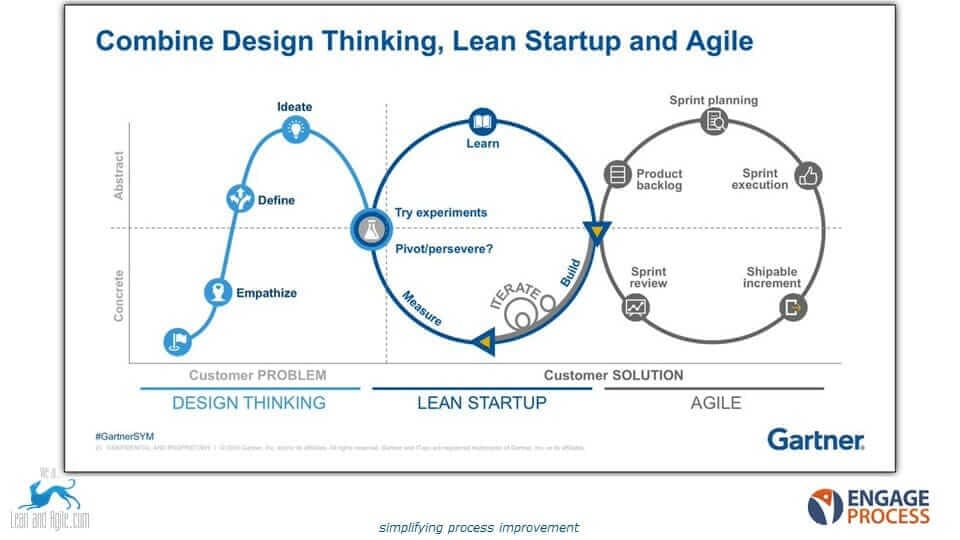 I see process mapping and modelling as a vital part of the improvement/delivery process. I have mentioned a few times I am a pragmatist in terms of methodologies and we all know all models are wrong. I do prefer blending methodologies to suit your organisation and its vision/strategy and my experience shows me that in order to deliver success you need to improve how you deliver various disciplines to get the optimum outputs. As you can see from the Gartner model many modern organisations are using this blended approach to deliver success. This model I believe is similar to the one used successfully by Hackney Council and others like the Sameroom approach used by Adur and Worthing Council.
This models methodologies have many commonalities like a focus on customer value/user need, short cycles, fail fast, MVP's and an iterative continuous approach. I am focussing on the improvement elements here but the need to constantly improve our capacity and capability to deliver better outcomes applies to all disciplines.
In this model good process/continuous delivery processes should support all of the elements in the model:
As I mention in the previous section I believe the first thing to do to qualify a potential project/improvement. This will give you an understanding the current process and its challenges and will help to explain why the user is experiencing some of the pains. This should also help identify areas of user research based on the understanding.
Once user research has been undertaken and user needs understood process improvement (To Be) supports the business by looking at the viability of delivering various changes. This is looking at what changes give us the most benefits and therefore needs to be prioritise for early delivery.
Mapping the To Be process with stakeholders also provides the earliest prototype of a new process and helps to gain stakeholder engagement, ownership and buy in to any changes.
Following the analysis and outcomes of user research work decisions can now be made on commissioning/prioritisation of the agile delivery of these outcomes.
If you are mapping at a level of detail these maps should form the basis of any specification for developers rather than creating other outputs
Testing of solutions should be done against the agreed processes and as requirements continue to evolve the To Be processes should evolve also.
When transitioning the new services to live the maps play a role in supporting training and implementation.
Post implementation your To Be becomes your As Is and should be published as a reference point(single source of truth) for your process for auditors or new staff.
Your processes should be available and capable of receiving new improvement ideas and challenges to support the identification of future improvements.
Your processes should be kept up to date so that they form the start point of any project being started in the area.
Process improvement practices in organisations are often not this mature. Often improvement officers are hampered by not having the right tools to do the job. This leads to delays and lower quality outputs which ultimately leads to further delays and poorer quality outcomes and significant rework further down the line. Tools like Visio and BPNM modelers do not offer benefits in these areas to improvement officers, other stakeholders or your organisation.
Lean used to talk about the 7 Lean wastes but this has now evolved into the 8 wastes of Lean. It can be remembered better by using the name TIM WOODS as they spell this:
T – Transport – Moving people, products & information
I – Inventory – Storing parts, pieces, documentation ahead of requirements
M – Motion – Bending, turning, reaching, lifting
W – Waiting – For parts, information, instructions, equipment
O – Over production – Making more than is IMMEDIATELY required
O – Over processing – Tighter tolerances or higher grade materials than are necessary
D – Defects – Rework, scrap, incorrect documentation
S – Skills – Under utilizing capabilities (our people), delegating tasks with inadequate training
The 'new' 8th waste Skills underpins the model and ethos we have adopted in delivering support and services to our customers. We have deliberately not sold consultancy to run improvement workshops for organisations. Ethically I did not want organisations to pay a day rate price for me to run these sessions when I was convinced the best way was to build your organisations capabilities and capacity in this area by delivering the tools, training and knowledge transfer to deliver sustainable capacity within your organisation.
For me it is far better that you pay me for a day to train 10 new analysts in our approach and software who can now all deliver process improvements than to have us run 10 workshops on your behalf. We have done this for our first 3 years and it is working very well. In the past year we have been involved far more in a number of organisations who are at the early stages and want help to embed this thinking and culture deep in the organisation to deliver real transformation. Organisations like Edinburgh City Council, Bracknell Forest Council and Carmarthenshire Council are all utilising the tools and techniques across and in multiple service areas beyond the central improvement teams.
The success of these programmes has made us look again at the consultancy model and a new focus for us for 2019 is to do much more work helping organisations really deliver the skills and development necessary to embed continuous improvement in their culture and their people. From a Lean Startup perspective this is a pivot we are changing the way we deliver for customers based on learning from experiments and feedback on their needs.
I see continuous improvement as one of a number of skills that are vital to delivering modern efficient and effective user focussed services. If you do need help with this type of work please do get in contact even if you are not a customer we value the learning that comes from those conversations. There are many other skills like Agile (this is very well supported by the GDS academy) or data science that really need to be far more widely included in our job descriptions and core organisational skills. More will emerge as technology advances and we need to continuously adopt these skills and embed them in our organisational development plans. Doing this is vital to success, just as is the reorganisation of organisations around new ways of working and skills to work to remove traditional organisational silos and align to the value streams/services.
A major concern of mine is organisational development in terms of these new skills. Budgets specifically in the Public Sector have been decimated across the last 10 years and more. The low lying fruit has been eaten and defecated out! Often development/training/events budgets have all but gone now in many organisations or at least are massively reduced. When I was back at Torbay Council the budget for development was not much but there were also lots of groups subsidised by the Public Sector to deliver training at reasonable or a free rate. These organisations also have reduced or disappeared. When I started I received a lot of training and development in projects, programmes and improvement thinking and methodologies and this has greatly benefited me throughout my career.
I regularly here of people unable to attend even free events due to budget constraints and training is equally sparse. The work of the MHCLG and GDS to deliver Agile and Service Design approaches is fantastic but there is so much more work needed in this area if we are develop and truly change our organisations and avoid the 8th waste. Whenever people talk of recruiting new analysts to work in their organisations I always raise the prospect of building your own. Where our customers have done this they are successfully using this to help drive change in the organisation and identify/develop their new stars with new skills and abilities that deliver organisational benefits. For me this is win win. Certainly in terms of improvement it can be taught and developed and you can also help by giving people approaches and tools that help them deliver better and faster.
Its not all about project work
The specific model from Gartner or any other models for improvement and delivery tend to focus mainly on the delivery of new 'projects'. In the same way good improvement discipline underpins that type of work and offers many benefits and helps de-risk delivery projects it does just as well for the other pieces of work that are in flight and competing for your scarce resources. Business as usual(BAU) work is also coming in all the time. There isn't really a definition of what falls in this bracket but a rough one would be 'smaller' pieces of work not defined as projects. Often this has its own way into the pipeline for development and often the ideas, investigation and analysis of the problem is less well defined.
Utilising good process improvement techniques here also has massive benefits. There are things in here that must be done like some legislative change or maybe political direction but a lot of these 'mini projects' are just smaller change and absolutely will be using your scarce development and ICT resources. Frequently there are scrutiny and sign offs for these processes but they are far lighter touch and before sign off detailed work must be undertaken to investigate them. It does not need to be like that mature continuous improvement organisations are ensuring that a picture of the As Is, the challenges/problems and a detailed definition of the To Be are needed for the submission. Part of that process is to quantify the value of the benefits of change to enable better commissioning.
This is where embedding to continuous improvement skills in the wider organisation really helps. Service areas are delivering these proposals with our tools and techniques without reference to central improvement and project teams. The result is you slim down your change pipeline, reduce rework on requirements and understand the benefits of proposed changes. Ultimately this could free up resource for projects but certainly means as an organisation you focus your efforts on the MVB work.
MVB(Maximum Viable Benefits) is a term that relates to delivering the maximum benefits with the minimum effort ultimately delivering the best outcomes for your customers/patients/users/clients and your organisation – Andrew Sandford!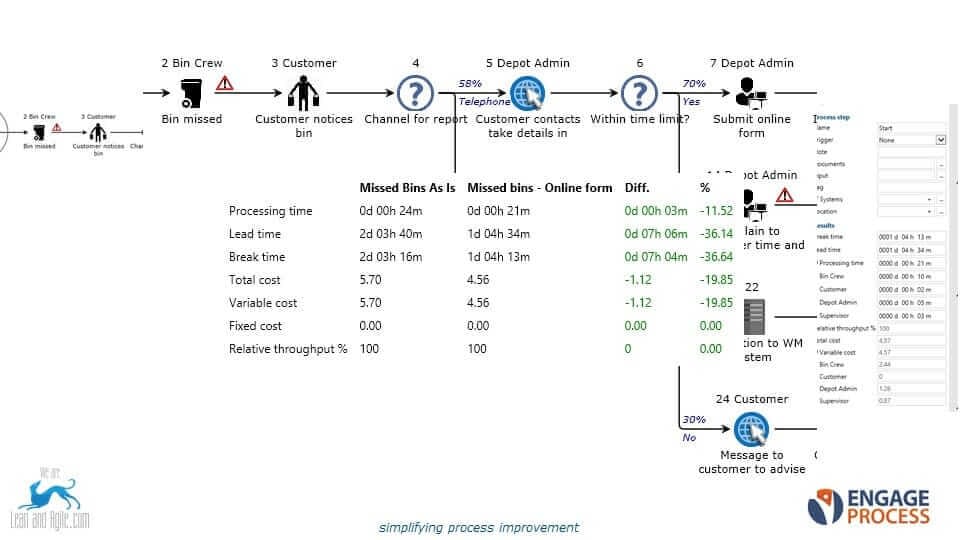 Delivering effective continuous improvement can deliver answers to questions for many of your project and programme stakeholders (users)
User researchers – what is happening in the current processes to impact on users, what experiments should we be conducting to understand user needs?
Delivery/Project/Programme managers – what are the changes being proposed and what are the benefits of change?
Developers – what do you want us to build (in enough detail to allow us to build it from your documentation)?
Test managers – how do we test the solutions?
Sponsors/Leads – how do we know the work we are doing delivers the best value and is on course to deliver benefits?
Change managers – what is the change and what do the new services look like and how do I transition it to live?
Service areas – how can I be confident and bought in to changes?
Governance – how do we prioritise and commission work to our limited resources?
Procurement/finance officers – how can I be sure the proposed spend delivers value for the organisation
To Be Digital Or Not To Be
I have deliberately stayed away from using the word Digital too much. I completely understand the focus on digital as a key method for delivering modern improved services. I am concerned though that digital is not the right focus, it is not the outcome organisations are looking for nor are things like being focussed on user needs. The outcome(certainly in the Public Sector) for organisations is better more efficient services focussed on user needs delivering tangible benefits. The focus on digital is not an outcome. The focus on digital also can disengage the business from the outcomes and lead back to things being done by the geeks in the corner. The focus on digital also misses the other channels which will still need to be maintained and enhanced in many of our Public Services. The focus surely must be around improving services and outcomes for customers across all our channels and end to end value streams.
There was a recent article on a survey done with Scottish Public Sector Digital leaders late in 2018 "The State of Public Sector Digital Transformation 2018". The outcomes in it were pretty stark and not necessarily the impression I have got from customers in Scotland but nonetheless concerning. The key findings are below:
Key Findings
-Despite wide acceptance that digital can deliver more cost efficient, agile and citizen focused public services, fewer than half of public sector organisations in Scotland view digital supported transformation as being 'mission critical'.
– Fewer than one-third have an agreed digital transformation strategy in place providing a roadmap for change.
– Progress in transforming service delivery has been slow with 81 percent of respondents stating that 'little or only limited' progress has been made. Only 15 per cent stated that 'good progress' was being made in digitally transforming service delivery.
– The absence of digital leadership, organisational culture issues and digital skills shortages were identified as the three most important barriers to transformational change in Scotland's public sector. Seventy-three per cent of respondents stated that their organisation lacked digital leadership. Other barriers to progress included fear, funding, resources and perceived risk.
– Externally, few public sector organisations are leveraging the full potential of digital for delivering exceptional customer experiences at Key Moments of Truth in the customer journey. Only 15 percent of respondents stated that they were making good progress in this area.
– Internally, many public sector organisations in Scotland continue to exhibit the classic symptoms of pre-digital workplaces – hierarchical, bureaucratic and controlling organisational structures; silos; 'productivity busters' such as excessive use of e-mail and numerous meetings; legacy technology and legacy management thinking; lack of innovation and staff engagement; poor communications; decision-making based on hunch rather than analytics.
– Less than a third of respondents agreed that digital natives would find their organisation an attractive place to work.
The feedback that less than half of the organisations in Scotland view digital transformation as being 'mission critical' is quite worrying. I think it reflects the fact that even though digital is a key channel and enabler of change not enough organisations/senior leadership teams are making the connection between this and delivering the mission critical work i.e. maintaining services for customers in a more cost effective way to deal with the ever reducing budgets. Obviously another reason that digital may not be viewed as mission critical in delivering savings is the many projects done over the years to date that have not ended up delivering the savings and outcomes promised. The work in improving and embedding new (and digital) skills in the workforce and customers is still vital but I contend that the focus on digital may not be helpful. Maybe its time for a different way to describe our transformation programmes? Just an opinion I am interested in other peoples views.
Supplier Management And Relationships
As I mentioned before I understand and experience the cynicism between customers and suppliers in the marketplace. Many years of 'solutions' being sold that don't exist or actually don't deliver the benefits and efficiencies already promised. I hope in 2019 we can start to address some of this and create a more effective relationship that does deliver benefits for all. I work with many SME's and experts who I know share our ethos of delivering solutions that deliver value for the organisations and for their customers. Creating a better relationship and more transparency can only help improve delivery on both sides.
I have spent a lot of time as a contractor on projects managing the supplier relationship and working to improve the outcomes. Many legacy IT suppliers still are delivering fairly average digital solutions but to be fair this will continue whilst we continue to procure the same old solutions from the same old suppliers. We need to break from the old procurement models of buying the 'safe' option of one of the big players and focus more on procuring solutions that meet our requirements. This does mean we need to get better at understanding our requirements and not going out to buy a solution then work out how we fit our processes within its constraints. No more digital silver bullets.
Why not start smaller and de-risk a project by placing smaller bets. Be agile, deliver in short cycles, be willing to pivot and even fail. Failure is only failure if the learning from what you tried is not captured and utilised in future projects. Try things with MVPs, test that they work and deliver before committing big money and effectively locking yourself in for many years.
I love the work that has been done for Pipeline by Hackney picking up the existing work and taking it on a level. Its a fantastic resource to look at and find other organisations that are doing similar work and to connect and learn from existing work. I know MHCLG will be delivering more of this type of thing and I am really keen to see the similar User Research platform. I want to see something similar but for the user need where an organisation is looking to procure solutions. Where is the TripAdvisor site for Public Sector technologies? When I have been in Local Government I would love to have been able to go to a customer review site and to see real honest views and information about which organisations are using which tools and how. I think this has massive benefits to all and I hope 2019 can be the year we start to make this happen (I think it was 2016 LocalGovCamp when I first floated the idea). Hey MHCLG fancy getting involved? First and foremost I think we need a register of who is using what that we all endeavour to keep up to date(so it needs to be easy and fast to interact with).
There are problems on both sides of the relationship and on the customer side there is definitely things that need to be improved for you to be better customers and better at supplier management. Things like sticking to deadlines, having better requirements, doing more supplier engagement, writing clearer procurement documents amongst other things. I would love to see some supplier – customer Codesign workshops this year.
As a contractor I have spent a lot of time looking at the contracts and looking to find savings for organisations and almost always there is savings to be found. Its quick and easy to do and well worth having a look at your existing contracts.
Top Tip – check your existing software agreements and your usage. Are your licences right(did you scale for what you might get to but are using a fraction)? Have you bought modules you are not using? Have you bought modules you have tested and you can't use because of functionality? Check the contract and make the savings or swap for alternative functions that do add value. Don't leave this solely to ICT, ICT do not always know the detail of the business requirements and usage.
Continuous Improvement Process Improvements Have A Huge Impact On Outcomes (ROI)
So back to our specialist niche your (continuous) improvement processes. I believe these have a massive impact on the ROI of your projects. By doing it right you smooth the entire path of delivery and speed it up. Focus on quality in your improvement processes and you will de-risk your projects and deliver better outcomes and more predictable benefits. It is relatively easy to start to do this as we are generally starting from a fairly low base. Technology has moved on massively in the last 10 years but many organisations are still delivering process improvements the way I did when I started my career in the Public Sector.
Many times(in fact it is extremely rare to not find issues) I have encountered challenges in projects brought about by frailties in the requirement capture process. things like having huge amounts of digital changes in the pipeline with no way of prioritising them, 'improvements' being delivered that have little or no benefits or 'improvements' being delivered where there is no idea of the benefits. You can avoid these.
It is perfectly possible to be realising these sorts of improvements in your delivery programmes through improving your continuous improvement capability:
Detailed understanding of As Is processes by all stakeholders
Understand the costs and benefits of your current processes
Identify improvement ideas and bottlenecks
Identify critical data and gaps
Quick wins can be implemented immediately with little or no technology change
Improved commissioning of higher benefit delivering work
Help target user research with the understanding of the As Is
To Be process options modeled and costs/benefits understood
Identify underlying needs for new technology across multiple processes(and the benefits)
Manage the pipeline of work better based on prioritised high benefit projects
Create clear requirements for developers (without rekeying data)
Publish processes as a training tool for transition and to support continuous improvement
Devolve improvement skills and ownership of processes to service areas and equip them with the tools to deliver CI
Continuous Improvement Processes Are The Easiest And Cheapest To Improve
Many hundreds of thousands of pounds are invested in technology by organisations to enable digital transformation. Modern solutions giving more flexibility really do require better definition of requirements. Older technology where you procure off the shelf solutions from traditional vendors did not require that level of detail as effectively you get what you are given. Not much is spent on technology to help your people deliver the changes. As I mentioned before the technology in this area has not been great most run workshops with Post Its and then transfer the maps into Visio, a BPMN modeller or other mapping add ons to technology solutions. This way of doing it works but in terms of value add to the process there is very little value add to this approach.
You can dig a hole with a spoon but why would you?
You can achieve improvements in your processes without changing the technology you use. To do this you need to spend a lot of time training and developing your teams to do the work to the right specification. This won't necessarily speed up delivery that much (in fact it may take longer) and certainly it will require more time for your analysts. There is a better way by using technology that not only gives you improved outputs and outcomes but also saves significant time (30-40% of effort saved for analysts by reducing/removing write up time) for your analysts but also enables citizen analysts (to steal a phrase from low code) to deliver continuous improvement projects i.e. not fully trained business analysts but people in your service areas.
Obviously we favour the technology route to support you. There is an alternative to the status quo and it delivers huge benefits for minimal costs. I hope the blog clarifies some of the reasons why you should look at this.
Have a look at how you do process improvement in your organisation. Does it deliver value for you? Would you like to speed up delivery? Would you like to embed the CI thinking in the entire organisation? Would you like a free trial to look at a better solution?
We are looking at 2020 Process Vision as a way of fundamentally changing organisations improvement processes.
Our view with '2020 Process Vision' is that with any organisation we can help you transition from where you are today to 2020 and a transformed organisation in terms of processes. The aim of the vision is that by 2020 your organisation can with minimal support achieve the following:
A central team of expert 'improvers' who can support,train and develop your people to deliver robust improvement across the organisation
A consistent repeatable improvement approach to improvement tailored for your organisation
Powerful tools to help discover, analyse and improve your processes
A sustainable network of citizen improvers in the services delivering more robust business case based change requests
Continuous improvement thinking embedded in your organisation and digital awareness raised
200+ processes mapped and understood (from both a process flow and costs/benefits perspective)
A shared collaborative library of your processes and ideas pipeline for use by multiple stakeholders (Product/Project teams, Developers, Analysts and   Sponsors etc)
Ideas pipeline generating better quality requirements, specifications and identified benefits
Digital service design skills like Lean Startup shared across the organisation by game based learning (Playing Lean)
Do you think your organisation could benefit from doing process improvement better?
Would your Digital Transformation efforts be helped by these outcomes?
If you want to here more watch the video and read the blog on mapping a cup of tea round process here
Interested in seeing Playing Lean in action click below