The ENGAGE™ Process Modeler
The

ENGAGE™ Process Modeler

 is the core of the process suite. With just the core module, you can work faster and better to create lean processes
The ENGAGE™ Process Modeler
The ENGAGE™ Process Modeler offers the core of the suite and includes mapping, modelling, analysing and process simulation.
This application provides a powerful environment for process modelling and design. The key features include: Design, workshop modes, evaluation and Lean functions.
Replace Post It® notes and paper workshops with live process mapping
It enables you to map your processes in a workshop friendly tool, share your processes immediately after the workshop with stakeholders and encourage greater participation. Do more for less with this Business Analyst friendly tool.
Please Note – The modeler does not offer any collaboration, sharing, digital process handbook or other enterprise features
Add a value chain to your process steps and enrich maps with inputs and outputs to your steps.
Analyse your processes through multiple perspectives from a single map. Easily highlight areas of concern and opportunities for improvement in the process viewer. Take the process on another level and simulate the effect of the resources on your process delivery.
The ENGAGE™ Process Modeler uses user friendly business focused icons to help with engagement and aid understanding.
Easily export your maps and analysis to multiple formats (Word, PDF, Visio, Excel to name but a few) and compare you're 'As Is' and 'To Be' process costs and timescales.
All this functionality and much more is available in the basic ENGAGE™ Process Modeler you will never go back to Visio or to paper after using this excellent mapping tool.
Need to deliver significant business improvements and efficiency?
Then this is the tool for you. Considering integrating or implementing a new system then get the real process data and understanding to inform your choices.
This is the most user friendly mapping tool on the market
Never draw a line, never move boxes around to insert a forgotten step, no need to redraw a map to look a role or system swim lane just click a button to look at a new perspective. Need to add additional attributes to steps (such as location or phase) then just add a table and add to your process maps.
Don't waste time writing up workshops, use those workshops more effectively to focus on the processes and to add break time, costs and processing time to your steps.
With the

ENGAGE™ Process Modeler

 you will also get this additional supporting module
Brainstorm App
The Brainstorm App synchronises with the ENGAGE™ Process Modeler, allowing you to quickly add additional queries and notes to your process.
This 'quick-fire' method can be accessed at any time on Android, Apple or Windows phone platforms.
Simply download the app to your phone, sign-in and start brainstorming. The output from your brainstorm mobile app will be accessible instantly within the ENGAGE™ Process Modeler.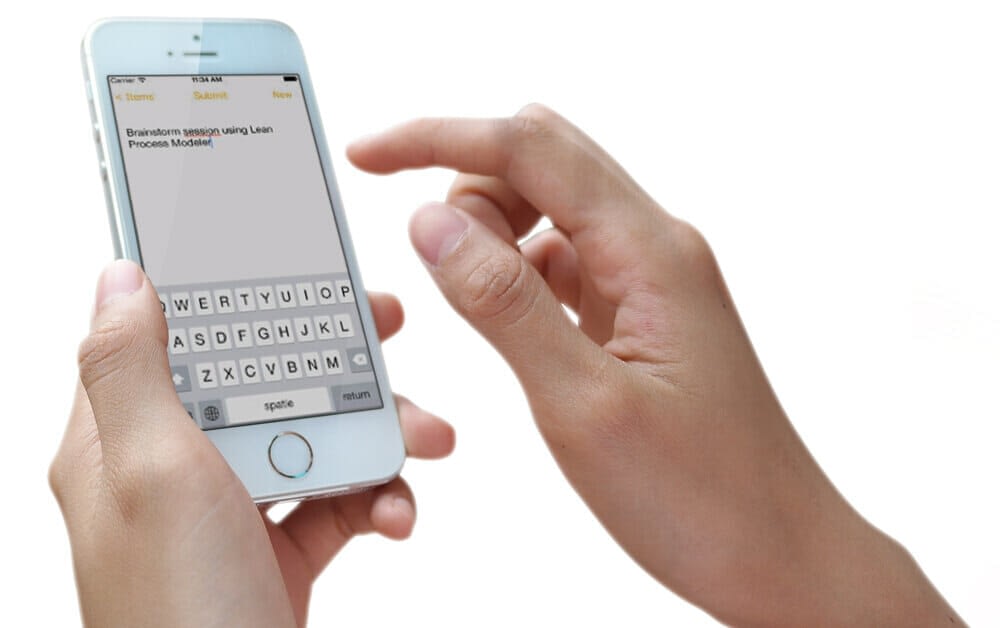 With a 

Modeler Team subscription

you will also get this additional supporting module
User Manager & Authorisation
You'll also be able to assign and manage users and their authorisation levels for all modules, keeping you in control.
Enable granular control over user access to process maps and what they can do with them.
Satisfy audit requirements by keeping your processes as secure or open as is required within your organisation.
Get the

ENGAGE™

Process Modeler and find the control of your processes at your fingertips.
Professional
1 Named User
Above concurrent
No
No
Brainstorm App
Support mails
Support calls*
Modeler Team
5 Named Users
1 of the above concurrent
User Manager
Autorisation
Brainstorm App
Support mails
Support calls*
Want more tools?
Read all about the ENGAGE™ Process Suite to see how you can really unleash your business process power!
*Telephone support for a maximum of 1 hour per user per year is included in all subscriptions
The ultimate multi-purpose BPM tool!
Loaded with awesome features, advanced options & much more!